Mike's Banana Bread French Toast. If you like Banana Bread then this is a great recipe. It puts a kick on French Toast. The condensed milk made it taste Great.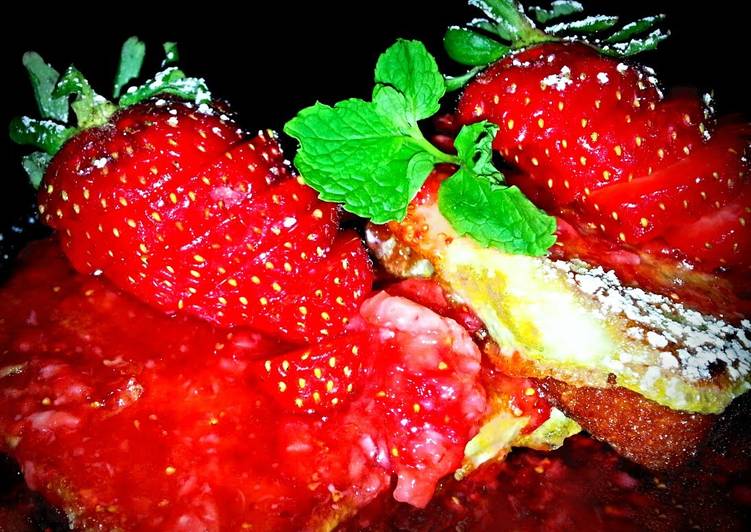 When banana bread is cooled, whisk together your french toast ingredients (minus the coconut oil) in a shallow bowl. Glad you have like the recipes! Let me know how the french toasts comes out, i'm sure it will taste wicked awesome after a wod! You can cook Mike's Banana Bread French Toast using 9 ingredients and 5 steps. Here is how you achieve that.
Ingredients of Mike's Banana Bread French Toast
You need of Banana Bread French Toast.
Prepare 4 slice of Banana Bread.
Prepare 1 of 12 oz Bottle Regular Syrup.
Prepare 10 large of Fresh Strawberries [divided – 1/2 for garnish].
You need 1/4 cup of Powdered Sugar [garnish].
Prepare 2 of Mint Sprigs [garnish].
It's 3 of Eggs.
You need 1 dash of Whole Milk.
It's 1/4 tsp of Vanilla Extract.
You guys are probably tired of seeing this banana bread but I gots to eat it LOL! I made banana bread french toast, scambled eggs, and bacon. In a large skillet over medium heat, melt butter. Banana bread French toast is a creative way to use up those leftovers pieces of banana bread.
Mike's Banana Bread French Toast instructions
Bake your own or purchase your banana bread. Attached below is a delicious, less sweet recipe for Banana Bread posted by an allthecooks contributer that works great!.
In a bowl, beat eggs, milk and vanilla..
Heat pan, spray with a non stick spray like Buttered Pam. Dip pieces of bread in egg mixture and cook until browned..
Blend syrup and 4 large strawberries and heat in microwave. Pour over bread..
Slice strawberries for garnishments and sprinkle dish with powdered sugar..
Make it for breakfast, brunch, or brinner! We love making banana bread with leftover bananas. It's a great way to avoid food waste, plus it's super tasty. We tend to gravitate towards one of our favorite, spiked. Take banana bread to the next level when you soak it in a classic French toast batter and fry it for an impressive (but oh so easy!) breakfast or brunch.