Very Berry Banana Bread. Adapted from somewhere, but I'm not sure where… I just have an old printout… Add berries. (I think frozen hold up a little better than fresh for stuff like this) Pour batter into prepared loaf pan. Mary Berry's banana bread recipe is small, but perfectly formed and loaded with chocolate chips. Use a fork to mash the peeled banana in a mixing bowl.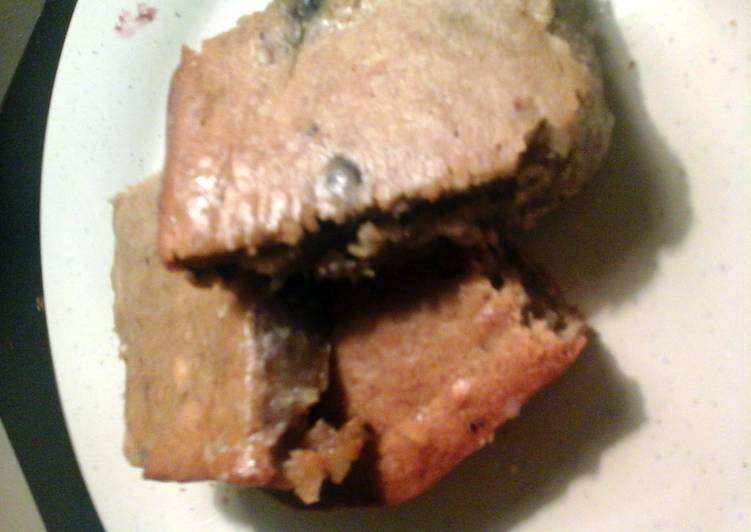 This Mixed Berry Banana Bread is a delicious and easy-to-prepare treat for summer or any time of year. The inspiration for this banana bread came from my visit to Maui After the aroma of this Mixed Berry Banana Bread wafts from your oven for about an hour, this delightful treat will be ready to serve. Triple Berry Banana Bread is a fun, fruity twist on the beloved classic. You can have Very Berry Banana Bread using 12 ingredients and 6 steps. Here is how you achieve that.
Ingredients of Very Berry Banana Bread
You need 1 tsp of vanilla.
It's 1 tsp of baking soda.
Prepare 3 of bananas (smashed).
It's 1/4 of blueberry.
It's 1 tsp of vanilla.
It's 3 dash of cinnamon.
Prepare 1/4 cup of milk.
Prepare 1 cup of sugar.
It's 1/2 cup of almonds.
It's 2 cup of flour.
Prepare 1/2 cup of butter.
You need 1 packages of raisin (seedless) 1.5 oz /43g.
With blackberries, blueberries, raspberries, and a simple lemon glaze, this banana bread is one for the books! This is a guest post from my lovely friend Allison, she's the write and photographer behind the blog, Some the Wiser. I cannot get enough of this stuff! Full of fresh blueberries, raspberries, and dark chocolate chips, this Berry Banana Bread is loaded with goodness and is the perfect breakfast, snack, or dessert!
Very Berry Banana Bread step by step
smash bananas, blueberry, raisins and almond.
preheat oven to 350.
in separate bowl beat eggs.
add all ingredients and blend well.
butter pan and pour inside baikng pan.
bake for 45-50 minutes or until toothpick comes out cleans.
Mary Berry's banana bread makes for a deliciously moist sweet treat and is a great way to use up leftover fruit. This banana bread is a great way to use up ripe bananas, including black-skinned ones. A great tip is to keep very ripe bananas in the freezer until you're ready to bake the loaf cake! While I'm all for transforming darkly speckled bananas into pancakes and no-churn ice cream, everyone knows the best way to make the most of the past-its-prime produce is to turn it into banana bread. Huge thank you to the sponsor of this video, Grandma Roz, who kindly gifted the hand mixer!